Veterinarians discuss medications and health-related services with clients every day, but they're not always as confident about recommending pet foods, treats and supplements, especially if they don't carry the product in-clinic. In fact, many veterinarians are actually worried that endorsing a product they don't carry will hurt their bottom line or take valuable visit time that should be used to discuss something more important. What veterinarians fail to realize—and what pet product manufacturers need to be stressing with them—is that today's pet owners expect their veterinarians to discuss products they like and trust. Doing so builds client loyalty and reinforces the veterinarian's role as the most knowledgeable source of pet health information.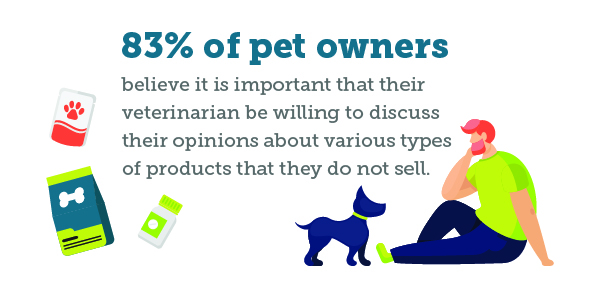 What Recommendations Do Pet Owners Want Most?
More than half of pet owners want veterinary recommendations for weight loss and senior foods, hairball remedies and oral health products. As many as three-quarters of pet owners want endorsements for joint health products. The problem is that for most of these products, more pet owners want recommendations than are actually receiving them. 

20% of pet owners actually say they've asked their veterinarian for an opinion on a product or service and not been given an answer. Veterinarians may not think avoiding one question is a big deal, but data shows that clinics refusing to provide product recommendations are damaging their relationships with clients and losing loyalty and advocacy. 

Today's veterinarians need to tailor discussions to the pet owner in front of them. It's a daunting task to be prepared to discuss any and every pet product that might be in question, so having go-to products that they know they can trust is a must. One negative experience can lead to discouraging reviews and word-of-mouth, both of which can greatly harm the clinic bottom line.
Gaining the Endorsement
There's an opportunity right now for pet product manufacturers to educate veterinarians about how endorsing products can benefit their clinic and client relationships. By providing information that helps make the endorsement process easier, manufacturers can be seen as a valuable partner. It's important to communicate directly with veterinarians to provide product education and proof of efficacy and palatability. Offering free samples for clinic staff may also make them more comfortable discussing a product and how they use it with their own pets.
This is a sample of pre-COVID-19 data from a Trone Research + Consulting (TRC) report for pet product manufacturers. To purchase the current report and learn more about optimizing your distribution and channel strategies, including selling through the veterinary channel, contact Trone Research + Consulting at 336.812.2002. TRC is currently gathering data to analyze the impact of the coronavirus on pet product sales and recommendations as we move forward to 2021. 
NOTE: This research is conducted by an independent research firm and is not sponsored by any manufacturer, retailer or service provider.