Home Connection Interrupted
Your internet customers aren't as loyal as you'd think. In fact, according to our March survey of nearly a thousand US home-internet customers, 22% of mid-tier and fiber-tier respondents would seriously consider switching providers if they experienced three to five buffering or lagging issues in a span of one week.
As customers continue to adopt daily high-bandwidth internet activities like streaming video, music and gaming, the frustrations around buffering and lagging will increase, and possibly push your customers away. In part three of our series, we dive into these frustrations to find out which levers to pull to both keep customers and convert mid-tier users into fiber-tier.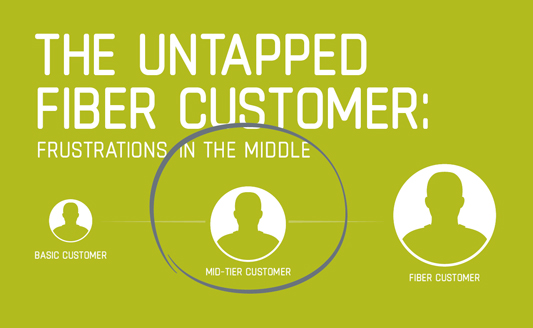 What Frustrates Them the Most
Just around 60% of both mid- and fiber-tier respondents find the cost of their home-internet service to be the biggest frustration. That isn't surprising, but nearly 50% of both groups expressing major dissatisfaction with speed and connectivity issues certainly is.
While reliability was not a primary frustration for either group, 25% of mid-tier and 20% of fiber-tier respondents stated that it was still a notable issue—representing a significant portion of both groups.
With streaming issues and download speeds a point of frustration for even fiber-tier respondents, your marketing should ensure that fiber internet offers the quality of life improvements of a more reliable connection.
Switching for Speed
Like clockwork, family members and coworkers complain about how much their home-internet service bill will be increasing every year, but how often do they actually switch providers?
In the past three years, 38% of mid-tier and 28% of fiber-tier respondents have switched their home-internet provider—indicating slightly higher levels of loyalty for faster connection households. Predictably, the cost of home-internet service was both the top frustration and reason for switching for over 40% of mid- and fiber-tier respondents, as seen below.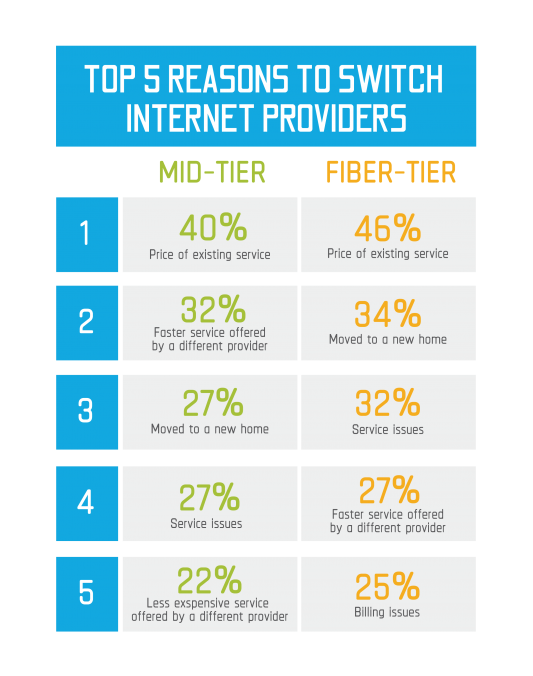 What's interesting is the relative importance of faster service by a competitor, particularly for 32% of mid-tier and 27% of fiber-tier respondents. While mid-tier respondents are likely to switch based on the price of their current service, they are less likely to do so to save money. Both mid- and fiber-tier respondents are switching for the perceived benefits of a faster, more reliable connection.
Marketing fiber as a faster home-internet solution that removes the frustrations associated with broadband connections may be a stronger argument than price point in converting mid-tier customers.
Know Your Audience
Ultimately, mid- and fiber-tier respondents share similar levels of frustration with their home internet. The two groups diverge in terms of why, and how recently, they switched home-internet providers. Mid-tier respondents switched more recently due to the price of their service and faster speeds offered by competitors. Fiber-tier respondents switched more recently due to the price of their service and connectivity issues. Both of these areas should be addressed in your marketing materials when looking to convert mid-tier customers into the fiber-tier.
Part four in this series will examine how mid- and fiber-tier respondents shop for their home-internet connection when they are ready to switch. In the meantime, please reach out to our agency if you are interested in developing the right marketing strategy to expand your fiber clientele. Missed part one or part two? Be sure to check out our insights on customer confusion and customer behaviors as well.
Before Your Next Promotion
Does your marketing speak to the impact of fiber on download speeds and streaming?
What percentage of your customers have switched to a competitor in the past three years? Why?
Does your marketing strategy focus on competitive pricing, speed or reliability? What's the right balance between these messages for your audience and market?